Garcinia Cambogia Coupons
GET 25% OFF Garcinia Cambogia HP!
Only Nature's Symbiotics has the highest potency, optimum-health boosting weight loss solution.
100% PURE NO ADDITIVES OR FILLERS
EASY 1600MG DOSAGE 2 CAPSULES PER DAY
100% MONEY BACK GUARANTEE
100% Natural, Made in the USA according to NSF certified GMP in an FDA approved facility
Nature's Symbiotics Pure Garcinia Cambogia HP Premium 1600mg Extract with 60% HCA – Natural Appetite Suppressant and Belly Fat Burner – 30 Day Supply
EXCLUSIVE TRADEMARKED FORMULA – Meets Dr. Oz Guidelines for Potency – A Full 1600 mg, 60% HCA Dosage in Just 2 Capsules per Day – Compare to Others with Only 500mg per Capsule (even if the label on the front says 3000mg or 1500mg)!
CLINICALLY PROVEN FOR HEALTHY WEIGHT LOSS – 100% Ultra Pure, Tamarind Fruit Extract is Famous as a Natural Appetite Suppressant, Belly Fat Burner, Energy, Mood and Metabolism Booster That Works!
MORE HEALTH BENEFITS – Not Just For Losing Weight! Supports Digestive Health, Healthy Lipid Levels, and is a Natural Anti-Inflammatory
HIGHEST QUALITY – With Potassium and Calcium for Maximum Absorption – Made with Vegetarian Capsules with Zero Additives, Fillers or anything you can't pronounce
WEIGHT LOSS GUARANTEED – 100% Satisfaction Money Back Guarantee – Lose Weight or Your Money Back!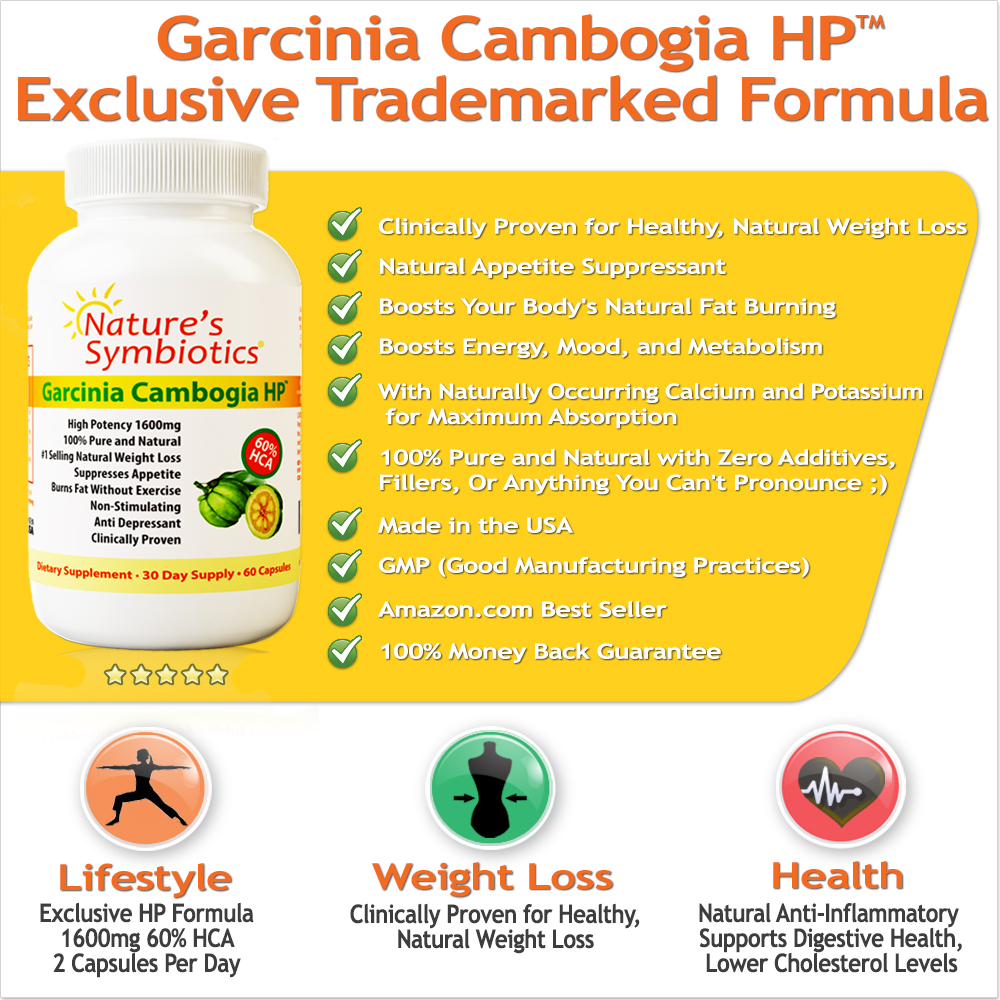 Exclusive Trademarked Formula Lets You Skip the Gym and Lose Weight with Only 2 Capsules a Day
Only Garcinia Cambogia HP™ is the highest potency, 2-a-day formula (so good we had to trademark it)! It is 100% natural, from the dried rind of the tamarind fruit (used in foods like curry), and is a revolutionary fat burner, recommended by Dr. Oz.
The Science
Garcinia Cambogia HP™ has the highest concentration of HCA per capsule for MAXIMUM fat-burning goodness:
Convert carbs into energy instead of belly fat
Suppress appetite
Less emotional eating
PLUS more health benefits:
Heal damage from too much fat, sodium, or sugar
Soothe the digestive tract
Protect against inflammation
The Result: You Lose Weight, have More Energy, and Skip the Gym (so you have more time to have fun)!
Why Pure Garcinia Cambogia HP™ Premium Extract?
All the choices can be confusing! We did the research to make it easy:
Beats Dr. Oz Guidelines
Must have 50% HCA: ours has 60% HCA!
Must have potassium and calcium: ours has natural symbiotic potassium and calcium (most brands use synthesized)
Daily dose must be at least 1500mg: ours is 1600mg!
No fillers, binders, or artificial ingredients: ours have none!
Exclusive Trademarked Formula with Full Dose in 2 Capsules
Nutrigold Garcinia Cambogia Gold: 1000mg
Dynamic Nutrition Pure Garcinia Cambogia: 1000mg
NatureWise Garcinia Cambogia: 1000mg
Nature's Symbiotics Garcinia Cambogia HP™: 1600mg 60% more!
Quality Guaranteed:
Made in the USA according to NSF certified practices in an FDA approved facility
To Your Health! Sign Up Now for 25% Off Garcinia Cambogia Coupons!
* (Sources: PubMed, PMIDs 21824444, 21569551, 21235803, 18603810, 18979524)